From 2017 to 2021, I was a member of the Willetton Football Integrated team. An inaugural member, in fact. I was 14 when I started my journey as an amateur footballer, and for the next 5 years every Thursday I rocked up to training, and every Saturday I was named in the starting line-up of a game that I loved.
At least, that's what I would have liked to have happened. You see, integrated teams consist of disabled players. Specifically, mentally disabled players, with conditions like autism and schizophrenia and ad/hd. It wasn't a normal sports league. The main club, Willetton, had four regular teams at the time, a seniors team, a reserves team, a seconds team, and a colts (under-21s) team. Back then, we didn't have a women team, but for whatever reason some of the leaders at the club had decided that it was a good idea to develop an integrated team. There had been an integrated competition in Perth since 2011, and it was the club's ambition that we'd be the next club to join the 7 others to make the next big step along the road to inclusivity for those who were different from the rest.
However, our first year in operation consisted of just two practice matches and a handful of training sessions. We only had 6 players at the time, just one third of a starting lineup, as the number of people with disabilities with an interest in Integrated Football was small to begin with, and the other teams had had 6 years to poach a large number of players out of our recruitment zone. That year, though, I don't think anybody really cared. I had barely any knowledge of there being other integrated teams; to me what I did was simply a recurring social activity where the only language we spoke was football, and the defining factor about ourselves – our disabilities – faded into obscurity as the players were all equals, and the coaches didn't openly judge us like our peers did, either at work, or for me, at school. It was a chance for me to become bigger and stronger – I can assure you I was once even lighter than I am now – and to improve my skills and knowledge about a sport I loved. I still remember our first practice match against CBC, kicking my first goal in a match. I still remember the bets I had with one of our coaches, Gotti, who said I couldn't nail a banana from the behind post. I remember being picked by the head coach, Keilan, for the curtain raiser at Domain Stadium. I met up frequently with the players from the team, and I remember being so excited to be managing my own social life.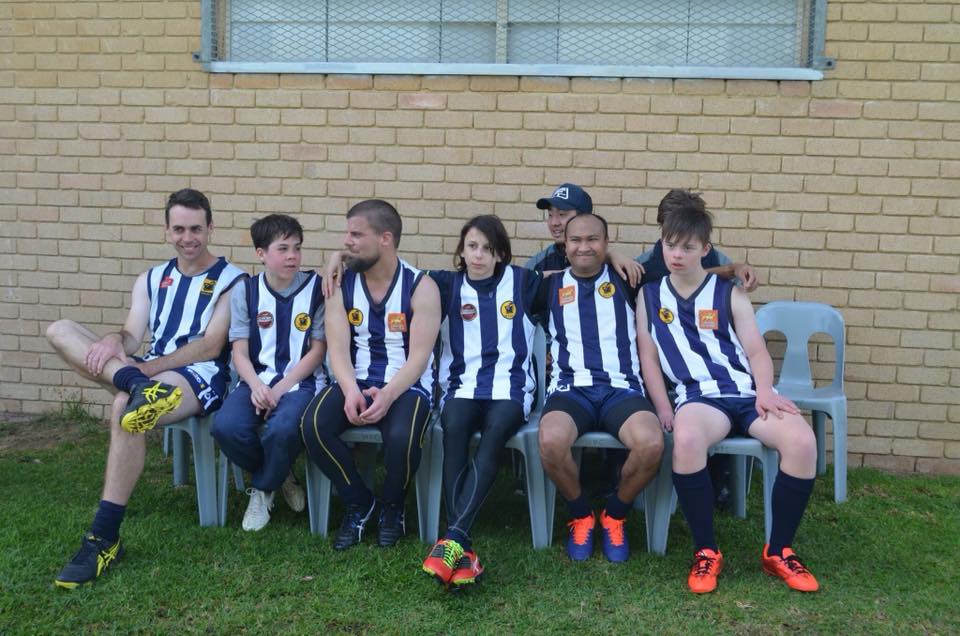 Team shot after our first ever game. From left to right: John, Alli, Geoff, Liam (that's me!), Tyler, Josh.
It was the ambition of the club that we play league football in 2018. A strong drive for recruitment began at our end of year dinner in 2017, with the captain Geoff bringing one of his basketball connections in, Kevin (basketball would prove to be a huge source of players over the years, with four of our premiership players in 2021 coming originally from the sport). Uwane, Ben, the two Zacs, Garry, Reece and Ben followed, and we finally had enough for a barebones squad in 2018 (each match we received top-up players from the other teams). Coming into our first game against the league powerhouses Coolbinia, I was immensely excited. The date was April 7 2018, the venue was Yokine Reserve, and the weather was excellent. A smashing defeat did nothing to dampen my excitement, but the stomach cramps having played in the midfield were an absolute killer. I still remember driving home that day with my dad and dreading the massive amount of maths homework I had to do.
The next couple of games, against CBC Gold and High Wycombe, started to plant some seeds of annoyance that still exist to this day inside me. At the time, my greatest attribute was my speed – my football skills were mediocre at best, and I could barely see as at the time I had no special sports glasses made up for me. I found myself becoming immensely frustrated with the lower functioning players who would let opponents run past them, cower away from the ball and provide poor delivery into the forward line (I still maintain Keilan was the best coach I played under, as he actually played me as a forward!). I feel that this become more justified over time as my skills and leadership abilities improved, but when I looked at the leaders like Tyson & Tyler, I saw almost no outward frustration. After that first season in the league, I strived to become a better leader on the field, but also keep my dismay to myself.
I'm going to be completely honest here. A lot of people don't like this about me, but I feel that to really get this message across, it has to be said without any hiding of the truth.
A problem with the integrated league, especially for the higher functioning players among us, is that it is open to everybody with a disability. While inclusivity is great, and I feel that the benefits far, far outweigh the negatives, I would be lying if I said that there was never an occasion that I hoped to play in a solely high-functioning division. This desire probably affected me more than others on the team because of the fact that I had a slightly more normal life. I went to a regular school (actually, one of the best schools), I had above-average intelligence and intellectual capacity, and I was normal. I saw some others on the team that still needed adult supervision well into their adult life, and I knew that I was destined for a more normal life. I was embarrased about the league I played in because it made it look like I was just the same as the lower-functioning